Union Square San Francisco, San Francisco
Union Square is a commercial and cultural hub in downtown San Francisco, named after the pro-Union rallies held here during the Civil War.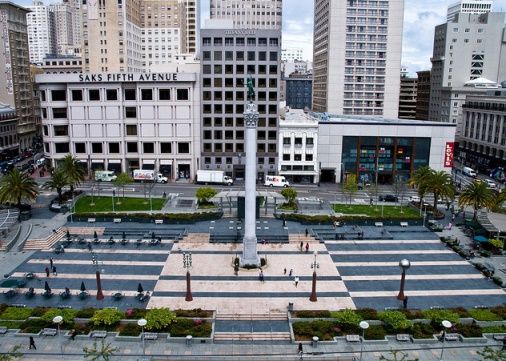 Union Square is a commercial and cultural hub in downtown San Francisco, named after the pro-Union rallies held here during the Civil War. Bordered by Geary, Powell, Post and Stockton Streets, the 2.6 acre plaza is surrounded by large department stores, luxury boutiques, art galleries, hotels, cafes and theatres.
At the centre of the square is the the Dewey Monument, dedicated to Spanish?American War hero Admiral George Dewey. The 85 feet high column by Robert Ingersoll Aitken is topped by a 9 foot statue of the Goddess of Victory with a trident representing Dewey, and a wreath symbolizing President William McKinley who broke ground for the monument. The surrounding open plaza hosts various public concerts and events, art shows, an ice rink in winter, and the annual Christmas tree and Menorah lighting. The corners have painted heart sculptures installed annually by the San Francisco General Hospital Foundation for fundraising purposes. The Emperor Norton's Fantastic San Francisco Time Machine tours start from here.
The 11-storey Tiffany Building to the north of the square has a Tiffany & Co. store, and other corporate offices. To the west is the Westin St. Francis Hotel with a historic Magneta Grandfather Clock, a 12 foot tall ornate timepiece constructed in Vienna in 1856. The south end has Macy's, which puts up the decorated Christmas tree annually.
The area around the Union Square has several theaters and entertainment venues. The Geary Theater is home to the prestigious American Conservatory Theatre which presents classical as well as experimental performances. The Curran Theatre hosts traveling Broadway and pre-Broadway shows. The Lorraine Hansberry Theatre, which was the first African-American art institute in the area, stages productions written by black playwrights. The Golden Gate Theatre presents Broadway hits.
The Square is a popular shopping destination with big name brands from Neiman Marcus and Saks Fifth Avenue to luxury stores Louis Vuitton, Gucci, and Bulgari.
The area abounds in art galleries. Some of the popular ones are ✓Christopher-Clark Fine Art which has works spanning 5 centuries from Old Masters such as Rembrandt to contemporary works by Andy Warhol and Damien Hirst, ✓Weinstein Gallery which presents surrealist art from pre-war Europe through the birth of abstract expressionism and the New York School in post-war America featuring artists such as Picasso & Joan Mir?, ✓Meyerovich Gallery with works on paper by modern and contemporary masters such as Picasso and Matisse, ✓Fraenkel Gallery of contemporary art and photography, and ✓Gallery Paule Anglim which features local California artists.
A stone's throw away to the north-east of the square are the French Quarter and Chinatown. Just off Stockton Street to the east of the square is Maiden Lane, which has the Xanadu Gallery, San Francisco's only building designed by Frank Lloyd Wright.