Sydney Town Hall, Sydney
The Sydney Town Hall is the seat of the Lord Mayor of Sydney and the city councillors.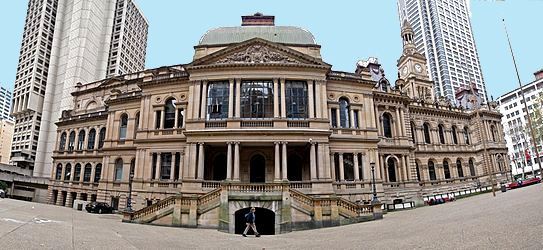 The Sydney Town Hall is the seat of the Lord Mayor of Sydney and the city councillors. One of the most ornate 19thcentury civic buildings in Australia, the Town Hall combines classical Victorian and French Second Empire architectural styles. It stands on the site of the Old Sydney Burial Ground, the city's first permanent cemetery which was in use from 1782 to 1820.
The 2-storey sandstone façade is topped by a pediment featuring the city's coat-of-arms, which has a ship in the center that symbolizes the maritime history of Sydney. Above this is a beehive, the symbol of industry. The shield is supported by a British seaman and an Indigenous Australian. Behind the façade, the clock tower soars to a height of 55 metres. A stairway leads to the colonnaded porch, which has a balustrade running along the top of the architrave.
The vestibule is a polychromatic dream with detailed and gilded highlights. The elliptical cupola from which the magnificent chandelier hangs is painted with allegorical figures representing the four elements of Air, Earth Fire and Water, and eight female figures representing Justice, Temperance, Industry, Prudence, Peace, Plenty, Trust and Liberty.
Completed in 1889 to commemorate the centennial of the founding of Australia, the Centennial Hall hosts events and performances, including the Annual Meetings of the Australian Labor Party. The hall was the first public space in Sydney to have permanent electric lighting, and its English Renaissance interiors feature ornate pressed metal ceilings, 12 monumental marbled stone columns, red cedar galleries, and 21 stained-glass windows that feature native Australian flora. Its highlight is the 25 metre wide Grand Organ, which was the largest of its kind in the world when it was completed in 1890. The Lower Town Hall beneath the Centennial Hall is a multi-purpose venue, hosting a wide variety of events including union meetings, state and local government elections, exhibitions, and demonstrations.
There are various other rooms such as the former Treasury, the Vault which has the historic Council Chamber cedar furniture and items from the Woolcott Collection, and the Lady Mayoress's Room which is styled as an early 20thcentury Parisienne salon. The Marconi Terrace, which connects the Sydney Town Hall to the Town Hall House, commemorates the centenary of the birth of Guglielmo Marconi who successfully illuminated the Town Hall by radio signals from his yacht Elettra in Genoa Harbour over 19,000 kilometres away.