St. Paul Outside the Walls, Rome
The Papal Basilica of St.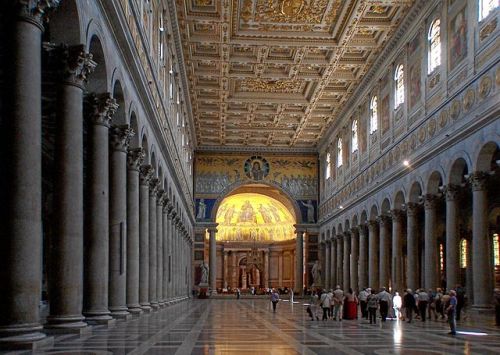 The Papal Basilica of St. Paul outside the Walls is the second largest church in Rome, after St. Peter's Basilica. Originally built in the 4th century AD over the burial site of Saint Paul, it has been expanded and renovated several times over the centuries. The present building is a faithful reconstruction completed in 1854 after the ancient basilica was ravaged by fire. It is a UNESCO World Heritage Site for being an integral part of Roman history.
The basilica is preceded by a 70x70 metre quadrangular courtyard framed by a gallery of 150 columns. . The side walls are decorated with medallion depicting the apostles and disciples of Saint Paul. At the center is the Carrara marble statue of Saint Paul by Giuseppe Obici. The Neoclassical façade has a colonnaded narthex on the lower level, above which are 3 tiers of mosaics. The lower band depicts the 4 prophets of the Old Testament - Isaiah, Daniel, Jeremiah, and Ezekiel on a golden background. The central band has the Agnus Dei on the mountain of paradise from which flow the four rivers symbolizing the Gospels, in which 12 lambs represent the apostles. The triangular tympanum depicts Christ between Saints Paul and Peter. There are 3 main doors. The central bronze door by Antonio Maraini depicts events related to Saints Peter and Paul. The golden bronze has reliefs depicting the Trinity.
The interiors, laid out on a Latin Cross plan, feature a single nave lined with 80 columns on the way to the triumphal arch of Galla Placidia, and 4 aisles. The stucco work on the ceiling is striking. The triumphal arch has mosaics of Christ Pantocrator and the 4 symbols of the Evangelists, below which is the 13th century Gothic ciborium by Arnolfo di Cambio. The marble canopy is supported by 4 Corinthian red porphyry columns. The quadrangular area in front offers a view of St Paul's tomb, which is marked by a marble tombstone in the crypt bearing the Latin inscription PAULO APOSTOLO MART (To Paul the Apostle and Martyr). Other works of note are the statue of Pope Boniface IX in the sacristy, frieze with the portrait of popes above the nave columns, and mosaic scenes of Saint Paul's life on the nave walls.