Zurenborg, Antwerp
The Zurenborg neighborhood in south-east Antwerp has strikingly beautiful Art Nouveau and fin-de-siècle town houses from the turn of the 19th century.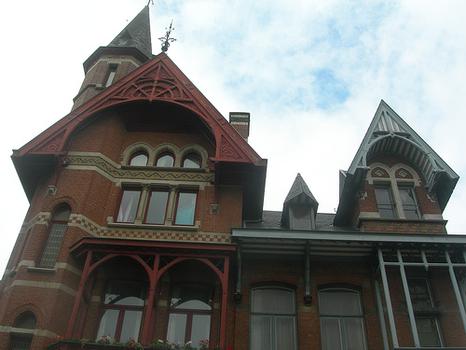 The Zurenborg neighborhood in south-east Antwerp has strikingly beautiful Art Nouveau and fin-de-siècle town houses from the turn of the 19th century. The eclectic collection of houses is based on varied themes, some of which are grouped together. It looks like the manifestation of a Belle Epoque artist's dream, with ornate wrought-iron work balconies, stained glass, mosaics, and sculptures adorning the facades inspired by Greek Antiquity, Italian Palazzos, French Renaissance and Flemish art.
The Cogels OsyLei in Berchem is the arterial road, lined with Art Nouveau mansions built by the immensely wealthy, with front gardens and wrought iron framed doors. House number 1 is the neo-Flemish Renaissance style Huize Brabo BVBA with a bronze statue of Brabo near the balcony, houses 2 to 4 show the Lion of Flanders, houses 6 to 12 make up the Carolus Magnus built in neo-Carolingian style with the remnants of a statue of Charlemagne, number 17 is De Zevensterre (The Seven Stars or Big Dipper) and number 19 – 23 are part of Apollo.
Part way down the Cogels OsyLei at 36 is a neo-Baroque roundabout surrounded by similar castle-like white houses with different details, while further down are the Egyptian hieroglyphs on number 44, and Flemish Renaissance Revival town houses by Frans Van Dijk from 45 – 51 showing Boudewijn IJzeren-Arm (Baldwin with the Iron Arm).
Inspired by nature, number 50 is the white Art Nouveau Zonnebloem (Sunflower) with a horse-shoe shaped window, number 52 is the Tulip which was the studio of artist Eugene Joors, and number 54 is neo-Flemish Renaissance style Klaverblad (Clover Leaf).
The Morning Star on 55 is a small but monument-like Art Nouveau building, The Tower on 56 – 58 has finely detailed woodwork, The Swallow on 60 – 62 has beautiful wrought iron work and the neo-Gothic St Joseph (Craftsman) has an open loggia. The Quinten Matsuijs on number 80 has a beautiful façade with a portrait of 16th century artist Quinten Matsys.
Other streets in Zurenborg worth exploring are Waterloostraat, General van Merlenstraat, and Transvaalstraat. At the intersection of Waterloostraat and Merlenstraat are De Vier Seizonen (The Four Seasons) with mosaics depicting Lente (Spring) with mayflowers and hyacinths, Zomer (Summer) with roses, Herfst (Autumn) with grapes, and Winter with snow laden branches. Waterloostraat has a cluster of 5 houses at 55 – 63 representing the times of the day – De Morgend (Morning), Den Dag (Day), De Tijd (Time), Den Avond (Evening) and De Nacht (Night). At number 30 is house Napolean with a portrait of the eponymous ruler, while the Art Nouveau house at number 11 De Slag van Waterloo (The Battle of Waterloo) has a panel depicting the battle after which the street was named as well as mosaic portraits of Napolean and Wellington. Also worth seeing is the Art Nouveau Les Mouettes on number 39, inspired by Victor Horta and designed by Jacques De Weerdt.
References to the then topical Boer war in South Africa can be seen on Pretoriastraat, Transvaalstraat and Krugerstraat. Number 15 on Transvaalstraat has the Twelve Apostles, while 59 – 61 has the Twaalf Duivels or 12 Devils carved in dark wood. 23 – 35 are a cluster of monumental Neoclassical Greek houses, with a white stone façade and ornamental statues.
Dageraadplaats (Dawn Square) in the northern part of Zurenborg is a popular dining area lined with restaurants and cafes. Here you can find the neo-Gothic church of St. Norbert (Norbertuskerk).