Kowloon Waterfront, Hong-Kong
The Kowloon Waterfront offers splendid views of the Hong Kong island shore and skyline.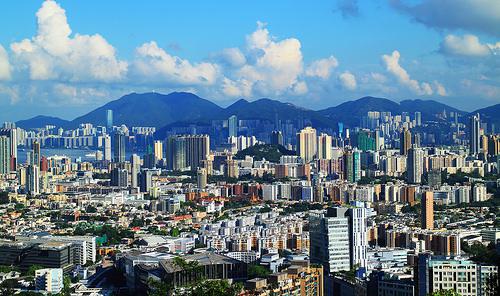 The Kowloon Waterfront offers splendid views of the Hong Kong island shore and skyline. This is the best place to experience the classic view of Hong Kong, and nobody on their first trip here should miss out on promenading along the waterfront. The best views are to be had at night when the lights of global capitalism provide a powerful spectacle. If you are not proficient with night-time photography, you can pay a modest sum for a professional to take your photograph against one of the world's most iconic backdrops.Start at the Star Ferry terminal, where cruise ships berthed at Ocean Terminal. Upon arrival at the terminal in Tsim Sha Tsui, visitors can not help but be impressed by the spectacle, and majesty, of 40,000 tonne cruise liners parked in the heart of the city. Begin your walk by inspecting the historic clock tower which is all that remains of a railway station that once took colonial officials back to London via the Trans-Siberian railway.If you continue your stroll along the Tsim Sha Tsui waterfront, you will soon find yourself walking along Hong Kong's version of Hollywood's walk of fame, the Avenue of Stars. You have to look down to appreciate the Avenue of the Stars where so many local film stars have pawed the wet concrete. You might not recognise their names, but it goes to show how big Hong Kong's film industry is. The experience is targeted at tourists from mainland China and the piped music gives it a slightly cheesey feel, but the statue of film legend, Bruce Lee, provides a welcome photo opportunity even for those who might know very little about Cantonese cinema.Every night at 8PM there is a colourful light show that is staged atop the key buildings on both sides of the harbour, dubbed A Symphony Of Lights. On Monday evenings, spectators can listen to the show's music and English narration live at the Avenue of Stars, on radio on FM103.4 MHz or by calling 35 665 665.